At T BAILEY INC. we pride ourselves on being able to fabricate a wide range of complex and demanding tank projects.
This blog post will introduce you to five of the most memorable custom fabrication tank projects we've completed over the past 20 years.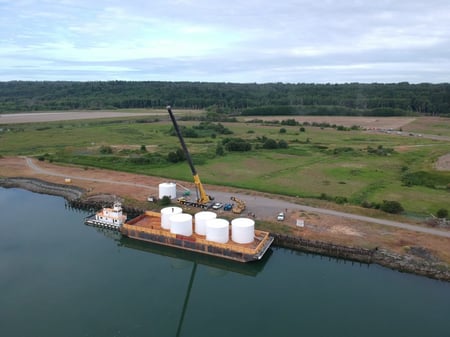 1. A Trip to France and Six 70,000-Gallon Shop-Built Tanks
We were approached by an Alaskan commodities broker who wanted our help manufacturing a storage facility for raw fish oil. The challenge here was that the client didn't know what kind of tanks they needed and didn't have any designs or configuration work done — all they knew was they had a needed some kind of storage facility.
To help the client determine what kind of facility they needed (tank size, configuration, etc.) we sent two of our fabrication experts to France along with the client's team, to examine a working fish-oil storage facility there. This trip, along with additional research trips to Alaska, enabled the client to make design decisions.
In the end, the client ordered six 70,000-gallon storage tanks with a diameter of 25.4' and a height of 19'.
T BAILEY INC. was the only contractor brought in by the client, so in addition to engineering and design, the client relied on us to supply everything else this project required, including:
Tank fabrication and delivery
A fabricated loading dock
Site grading
Mechanical heating systems and boilers
Foundation construction
Mechanical pumps and hoses for moving the oil
Containment and fence manufacturing
Site lighting and electrical systems
Permitting with the city and state
This custom tank project is a testament to T BAILEY INC.'s ability to take a client's vision and transform it into a complete, up-and-working facility.
Read more about this project here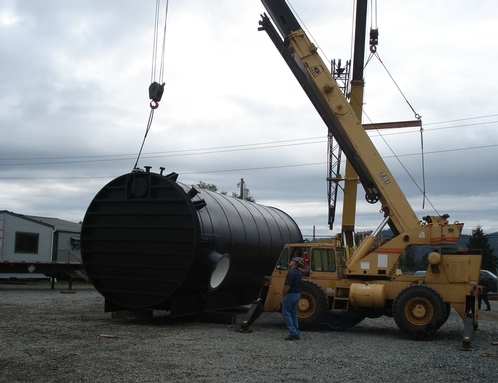 2. Shop-Built Tanks for Oil Recovery
Conoco Phillips, the largest crude oil producer in Alaska, approached T BAILEY INC. and asked us to fabricate two large water tanks for their Beluga River Gas Field facilities.
A challenge that ConocoPhillips faced was finding a tank fabricator willing to accept a small order of only two tanks. Most fabrication companies charge high fees for small orders, but here at T BAILEY INC., our ability to complete the entire tank manufacturing process in-house means that we're able to keep costs low — making us the perfect choice for ConocoPhillips.
Once we set to work on the project, we encountered some challenges of our own.
The biggest challenge for us was associated with hardware. The function of these two shop-built tanks required them to have a massive amount of hardware attached to their shells, including transportation rails, nozzles, foundation platforms, and more!
All this hardware posed a serious problem for the tanks' insulation.
The water in each tank was going to be heated, requiring thick layers of insulation. This included industrial coatings, tar, foam, and steel siding.
The hardware covering the tanks made it a real challenge for our team to properly insulate them because the tanks' steel foundations and transportation rails created heat sinks. For example, even though the tank was insulated, the steel rails were attached to the tank body, allowing heat to escape through them.
By partnering with a trusted insulation contractor, we were able to develop innovative insulation solutions that eliminated the heat sinks and kept the tanks completely insulated.
This custom tank project is a powerful example of T BAILEY INC.'s ability to overcome unique fabrication challenges and process smaller tank orders.
Read more about this project here.
3. Pulp-Processing Tanks for Eastern Washington Farmers
Columbia Pulp LLC contracted T BAILEY INC. to design, fabricate, and deliver 23 large shop-built tanks and 2 field-erected tanks. The shop-built tanks were 14' in diameter and 12' high, while the field-erected tanks were 12' in diameter and 34' high.
A notable challenge our team faced during this project was harsh environmental conditions. The job site was located deep in the Columbia River Gorge — a large canyon that channeled wind through the job site at speeds regularly over 30 miles per hour.
Welding outside can be difficult in even good weather conditions, so as you can imagine, welding in the gorge's wind was all but impossible.
Our team overcame this hurdle by measuring wind speeds and discovering that the wind was strong during the day but died at night. By charting exactly when the wind would start up and die down, we were able to schedule our welding crew around the wind and get the job completed on schedule.
The Columbia Pulp project is included in this blog post because it is an excellent example of T BAILEY INC.'s ability to continue working despite challenging site conditions.
Read more about this project here.
4. Disaster-Proof Fuel Tanks for the Air Force
Fireguard tanks are fire-rated above-ground storage tanks that have three layers of protection and can withstand ballistics, vehicle collisions, earthquakes, and a host of other disasters.
Their extreme longevity makes Fireguard tanks an excellent addition to any fuel-storage facility, but especially for the military — which is why the Air Force contracted T BAILEY INC. to fabricate and deliver a number of Fireguard tanks to a remote base in Alaska.
Due to their three layers of protection, Fireguard tanks are large and extremely heavy. So heavy in fact that if we had completed assembling them at our facility they would have been too heavy to ship.
We resolved this transportation issue by not installing one of the layers of insulation (the thick layer of concrete) during fabrication. Instead, we shipped the nearly-completed tanks up to Alaska on a barge. Then we sent several of our team members out to the remote Air Force base to finish assembling the tanks' insulation.
This custom tank project is a testament to T BAILEY INC.'s ability to deliver our tanks to any location.
Read more about this project here.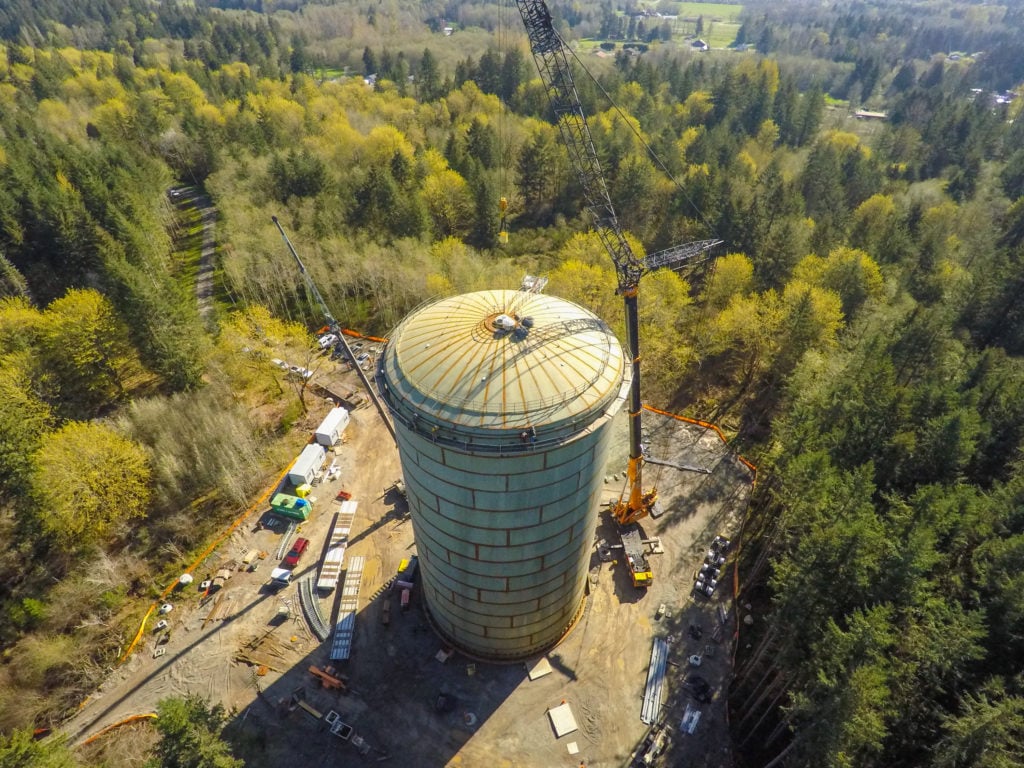 5. A 5.2 Million-Gallon Reservoir for the City of Olympia
T BAILEY INC. was brought in as the general contractor for the construction of a 5.2 million-gallon AWWA water reservoir for the City of Olympia. We did all the design and engineering work for this project, as well as the shop-fabrication and construction for the 144' tall by 80' in diameter water tank.
One of the unique aspects of this project was that it required us to clear not only the job site, but to also create a 2,100' heavy-duty access road so that our heavy equipment could access the site.
The original site was a wet and swampy forest, making it extremely difficult to work with. To overcome this, our crew excavated and removed several feet of clay and mud from the job site and road, put down a liner, and then filled in the excavation with crushed rock.
Our extensive experience in site preparation enabled us to create a very robust road that could support all our heavy equipment and materials.
This custom field-erected tank project is an excellent example of T BAILEY INC.'s ability to clear and prepare a site for construction.
Read more about this project here.
An Expert Custom-Tank Fabricator Near You
If you would like to hear how T BAILEY INC. can put our vast industry experience to work for your company, contact our team today.