T BAILEY, INC. was awarded the Steel Tank Institute & Steel Plate Fabricators Association 2009 Pipe Fabrication Project of the Year Award for the Aberfeldie Redevelopment Project.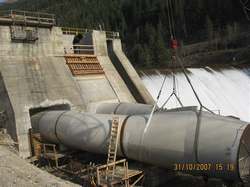 T BAILEY, INC. was a supply subcontractor to Western Versatile Construction Corp for the design, fabrication, shop painting, and delivery of the following steel pieces for the Aberfeldie Redevelopment Project, which is a hydroelectric facility owned by BC Hydro and Power Authority and located near Cranbrook, BC.

4 each Bifurcations: 120" x 120" x 132"; 108" x 71" x 96"; 96" x 71" x 84"; and 84" x 71" x 72". Approximately 900 LF of steel penstock in varying sizes of 120", 114", 108" & 72" with assorted elbows, tees, and reducer fittings.

The design of the each bifurcation was extremely complex and the fabrication utilized unconventionally shaped pieces to comply with the difficult project conditions. The number of field welds needed to be minimal to simplify the complex field fit up and to avoid the dense rebar cages and massive crotch reinforcing plates. The finished shop pieces were so colossal they required special transportation arrangements to arrive safely at the remote jobsite. The project spanned multiple years and included over 1.2 million pounds of steel.

The Aberfeldie facility is a run-of-river plant so there is no storage upstream of the dam. The water that enters the plant at the intake dam is returned to the Bull River at the powerhouse tailrace. The redeveloped plant does not alter river flows or levels upstream or downstream of the facility. With the old powerhouse, only 20 per cent of the annual river flow was utilized to make energy and 80 per cent of the flow went over the spillway. With the new powerhouse, 80 per cent of the flow is utilized to make energy and only 20 per cent goes over the spillway. The Aberfeldie Dam and Generating facility can now produce enough energy to supply 10,500 residential customers annually.