Health and safety precautions are paramount in the tank fabrication industry. Potential health hazards are found everywhere from the fabrication shop to the construction job site, including metal fumes, toxic waste, heat stress, swinging beams, heavy equipment, and working at height — to name a few.
At T BAILEY INC., we understand that a company is only as strong as the people it employs. This is why we take great care to provide our employees with a healthy work environment. We want our employees to feel safe when they clock in, knowing that they work for a company that prioritizes their wellbeing.
Continue reading to learn about the safety precautions in place at T BAILEY INC. All our health and safety processes are led by a Certified Industrial Hygienist (CIH), who is also a Certified Hazardous Materials Manager (CHMM), and a Certified Professional in Stormwater Quality (CPSQ).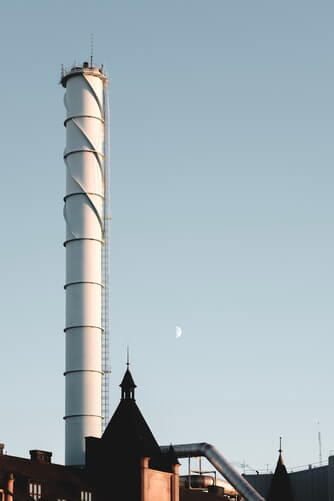 Metal Fabrication Precautions in the Shop
Safety begins at home, so before introducing the precautions we take at the job site, here are some of the steps we take to cultivate a safe shop environment:
Safety Orientations For New Employees
When we onboard new employees, their first day begins with a one-hour safety meeting where a supervisor takes them through a booklet on fabrication safety and best practices. This covers general safety and enables them to start work that day.
This initial safety meeting is followed up with a four-hour safety training session, where new employees meet with T BAILEY INC.'s Certified Health and Safety Manager to discuss safety precautions for their specific role and to go through a more intensive safety manual.
Weekly Safety Meetings
Our Certified Health and Safety Manager holds weekly safety meetings with all of our employees, including office staff. Meetings run 15-60 minutes depending on how many topics need to be addressed.
These meetings cover emerging safety topics. For example, if there was a recent injury, the discussion will cover how it occured and how employees can prevent it from happening again.
Additionally, T BAILEY INC. keeps a log where managers can enter safety concerns. At the weekly safety meetings, our Health and Safety Manager brings these up and instructs employees on how to mitigate these concerns.
Fabrication Safety Precautions in the Field
While a lot of our tanks and vessels are fabricated in the shop, much of our work is in-the-field tank construction. Field-erected tanks can be massive, requiring a wide range of additional health and safety precautions. These include:
Daily Safety Talks
Nicknamed "toolbox talks," these foremen-led discussions occur every day before a field crew sets to work. These safety talks cover safety precautions specific to that job site (e.g. high winds, working at height, high heat) and provide instructions on how to mitigate these risks.
Scaffolding Precautions
As field-erected tanks slowly rise into the sky, our boilermakers and apprentices follow the rising steel with an elaborate system of single-level scaffolding. At first, scaffolding is based on the floor inside the tank, but as rings of steel are added, the scaffolding rises up as well so that eventually the scaffolding is suspended off the floor and secured to the inside wall of the tank.
Initially, boilermakers and apprentices use ladders to access the scaffolding. Once the scaffolding is too high to reach by ladder, they get flown in by our crane operator.
To keep our crew safe on scaffolding, we employ a combination of guard rails, harnesses, and lanyards. Boilermakers and apprentices climb up the ladders or get flown in wearing their safety gear and hook onto the scaffold before they step on. Our scaffolding planks are an engineered product that we regularly inspect and evaluate per written procedure.
Verbal and Hand Sign Safety Signals
Field-erecting a tank requires careful coordination between boilermakers, apprentices, crane operators, and other field personnel. To maintain workplace safety, our employees use a system of verbal and hand signals whenever moving people, equipment, or materials around the job site.
Regular Safety Equipment Maintenance
Our dedicated maintenance shop repairs, cleans, updates, and repackages all our field safety equipment between each job. This ensures that our crews are using up-to-date and properly-maintained safety equipment (e.g. scaffolding, harnesses).
Safety Boxes on Every Job Site
Every job site gets a safety box — a small shed pre-packed with safety posters, first aid kits, spill kits, fire extinguishers, reflective vests, hard hats, and any other safety equipment they need on that specific job. These pre-packed safety boxes mitigate human error by ensuring that every job site is equipped with all the safety equipment and first aid gear it could need.
COVID-19 Precautions for Metal Fabrication
COVID-19 has introduced a new workplace hazard for us to combat. In addition to mandatory mask usage for everyone in the workplace, here are some of the additional precautions T BAILEY INC. is taking to mitigate the risk of COVID-19:
Social Distancing in the Workplace
In compliance with social distancing recommendations, we've split our weekly safety meeting into five different meetings — one for each department. This enables us to maintain the appropriate space between attendees.
Additionally, safety meetings now include state-of-the-county updates, introduction of new regulations, and other COVID-19-related safety topics.
Enhanced Screening and Cleaning
When employees clock in, they're required to answer questions about their health and are further screened by our automated COVID-19 screener — a thermal camera that takes employee temperatures and shares health information on an iPad display.
Enhanced cleaning processes include:
Hand sanitizer stations throughout our fabrication facilities and at our job sites.
Increased cleaning and disinfection spraying several times per week.
Upgraded HVAC systems (we've equipped them with UV lights to kill viruses).
Equipped facilities and offices with portable HEPA filters.
A Fabrication Company That Cares
Partnering with us means you're tapping into decades of fabrication health and safety experience. When you order a tank from T BAILEY INC. you can rest easy knowing that it was created by a company that puts the health and safety of our employees first.
To learn more about the safety precautions at T BAILEY INC. or to inquire about our fabrication capabilities, please contact our office today.