T BAILEY, INC. understands that the selection process for tank heads can be complicated. With several shapes and styles to choose from, how do you decide on the best end cap for your tank? Selecting the right tank head is crucial to the structural integrity and proper functioning of your tank.

In fact, there is a whole lingo just for describing tank head attributes, known as Head Terminology. Understanding the industry terms can be a great help if you need to have a tank designed and fabricated. This article explains the jargon to ensure you pick the right tank head.
What Is a Tank Head?
Some Head Terminology
Dish radius (DR): The major radius of the crown section that covers the tank.
Knuckle radius (KR): The internal radius of the transition from the dish to the flange.
Straight flange (SF): The cylindrical straight section that is attached to the tank wall.
Tangent line: The point where the knuckle meets the straight flange.
Thickness (t): The nominal, or specified minimum thickness, of the dish material.
Overall Height (OAH): The total external height of the head = thickness + dish height + flange height.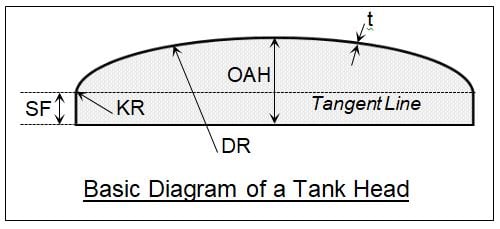 Functions of Tank Heads
To maintain structural integrity even when subjected to extreme pressure from volatiles or compression inside the tank.
To withstand external exposure to harsh conditions, such as adverse weather.
To resist extreme internal cold or heat, such as cryogenic tanks or tanks that contain internal heating elements.
To ensure the safety of explosive or flammable contents, thereby protecting people and the surrounding environment.
The Different Tank Head Types
Most tank heads comply with ASME standards or similar codes because they are often under pressure when used on tanks for gas storage or chemical reactions. The different tank head types are determined by their engineered features and their applications.
#1. Elliptical or Semi-Elliptical Tank Heads
Features:
The shape of this tank head makes it economical because the height of the head is just a fraction of the diameter. Its radius varies between the major and minor axis, usually in a ratio of 2:1.
These are very efficient at high pressures, while still having a reduced thickness.

Uses:

These are excellent for unfired pressure vessels, such as liquefied petroleum gas and air receivers.
#2. ASME Flanged and Dished Tank Heads
Features:
This tank head has a lower head height while still being able to resist pressure.
For the same service conditions as #1 above, they require thicker material for the dish and are therefore slightly more expensive than elliptical heads, but for atmospheric storage tanks they are more economical than elliptical heads.
Uses:

They are good for mixing tanks because the radius of the head is flatter, allowing the mixer to be mounted lower in the tank.
#3. Torispherical Tank Heads
Features:
The flat dished head has a spherical surface and a cylindrical edge connected by a transition section.

The stress distribution of a torispherical dish head is not as uniform as an elliptical head, but it is easier to fabricate.
Uses:

These are good options for larger-diameter pressure storage vessels.

#4. Conical Tank Heads
Features:
Shaped like a concentric cone, a conical head is tapered from the large end at the flange towards the small end at the center point of the dish.
The geometry and the narrowing radius of curvature exert a large lateral thrust, causing edge stress. Because it is prone to bending, it is necessary to reinforce this type of head.
Uses:

Conical tank heads are widely used on the tops and bottoms of vertical pressure vessels, to facilitate the collection or drainage of the stored substance. They are also used to connect two-stage vessels of different diameters.

#5. Flat Tank Heads
Features:
Flat heads are usually cheaper because they don't require any special forming equipment.
They are not suitable for pressure usage as the thickness has to be increased. This makes them heavy and requires reinforcement to prevent sagging.
Uses:

These are a good option for storage or holding tanks at atmospheric pressure. They can also be used when you need a lower head height.

#6. Simple Flanged Tank Heads
Features:
Simple flanged heads are similar to flat heads but they have a formed straight flange at the perimeter which attaches to the shell using a butt joint or lap joint instead of a corner or tee joint.
They are not suitable for pressure usage and require special forming equipment.

Uses:

These are a good option for storage or holding tanks at atmospheric pressure. They can also be used when you need a lower head height.
#7. Hemispherical Tank Heads
Features:
The hemispherical head has an overall height equal to half the diameter.

It has the lowest thickness, but because of its geometry, it cannot be formed from a flat sheet. Instead, it is made from pieces welded together, and therefore can be costly.
Uses:

These are used on large-diameter tanks or high-pressure applications to cut down on material and weight. Two hemispherical heads can be joined together to make a storage sphere, the most efficient shape for high-pressure storage.

Conclusion
T BAILEY, INC. has decades of experience in the manufacture of safe, high-quality tanks that utilize these heads. We comply with ASME, API, AWWA and UL standards in design and fabrication and can help you select the perfect way to enclose your tank. Do you need help? Our team is here to offer you professional, detailed advice.