Codes and standards are developed by industry leaders and professionals to ensure that shop-built tanks are built safely and built to last. These codes and standards cover all aspects of design from foundation design and required plate thickness, to weld style and required testing.
As the leading shop-built tank fabrication company in the Northwest, T BAILEY INC. goes to great lengths to ensure that our tanks are the best of their kind. By strictly following the necessary codes and standards, we guarantee that our shop-built tanks are fabricated, coated, and tested following the latest and best practices in our industry.
This guide to shop-built tank codes and standards will introduce you to some of the main regulations that we follow. Complying with these regulations helps us protect the environment and ensures that our tanks stand the test of time.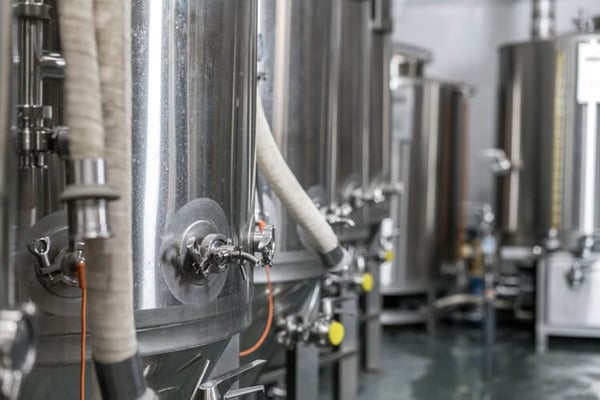 What is API 650 Standard?
API 650 Standard regulates the fabrication of welded tanks for oil storage. API 650 governs every aspect of the oil tank fabrication process, including:
Design
Welding & Assembly
Inspection & Testing
Installation
API 650 tanks are generally atmospheric tanks, but can have minor internal pressure not exceeding the weight of the roof plates. They hold all sorts of oil products, including produced water, gasoline, oil, crude petroleum, and other chemicals.
How T BAILEY INC. Improves On API 650
Because we at T BAILEY INC. strive to fabricate the best tanks in the Northwest, we don't stop at compliance. Even the latest standards have shortcomings, so we share these shortcomings with our customers and make them aware of improvement opportunities.
For example, API 650 doesn't require interior coatings for tanks and while petroleum doesn't pose a serious corrosion threat, oil products always contain some water. When the product is pumped into the tank, this water sinks to the bottom, where it can cause corrosion damage over time.
To mitigate this risk, we can apply special linings to the inside of an API 650 tank, when required by the customer. We maintain cost-effectiveness by coating only the bottom of the tank and lower portion of the shell. This protects the bottom of the tank from water corrosion and is just one example of T BAILEY INC.'s dedication to quality fabrication.
What is AWWA D100 Standard?
AWWA D100 Standard governs the fabrication of welded steel tanks for water storage. Just like API 650, AWWA D100 regulates all aspects of the design and construction, including:
Foundation
Tank materials
Accessibility hardware
Testing and quality assurance
Depending on the kind of water tank being fabricated, there are other AWWA standards that also come into effect, including:
AWWA D102: Standards for coating steel water tanks. If a shop-built tank requires painting, we do this immediately after fabrication, in our industrial paint shop.
AWWA D652: Standards for disinfecting storage tanks for drinking water. Disinfection is usually done after the tank has been delivered and right before it's put into service.
What is UL 142 Certification?
The NFPA 30 Flammable and Combustible Liquids Code requires atmospheric tanks for flammable and combustible liquids to be fabricated in accordance with certain standards. UL 142 is one of these standards. Another eligible certification for oil and gas tanks is the F921, by the Steel Tank Institute.
Whereas API 650 and AWWA D100 apply to both shop-built and field-erected tanks, UL 142 only governs shop-built tanks. Tanks built in accordance with this standard receive a UL Listing Mark permanently stamped to the tank.
Some of UL 142's fabrication requirements include:
Quality control and testing: these include top loading, tank leakage, buoyancy, hydrostatic strength, hydrostatic load, tank support, and lift lug tests. These thorough tests ensure that a tank is structurally secure.
Fabrication requirements: these specifications include requirements for drain and gauge openings, connections, welded joints, manholes, fittings, coatings, and more.
How T BAILEY INC. Improves On UL 142
While UL 142 requirements are stringent, we at T BAILEY INC. don't settle for compliance.
For example, UL 142 allows certain tank joints, but not all of these joints are created equal. While the single-welded joggle joint is allowed, we only perform the more difficult double-welded joint because our experience has shown double-welded joints to be better.
Our primary shells are always double-welded joints. Never single welded.
What is UL 2085?
UL 2085 code is very similar to UL 142. They're based on the same design, but the difference is that UL 2085 tanks are reinforced, double-walled tanks with an interstitial space between the two shells. This space is filled with lightweight concrete, making UL 2085 tanks impervious to collisions, bullets, and nearly every kind of natural disaster.
The Steel Tank Institute has a similar certification, called F941. To see how robust UL 2085 and F941 tanks are, please read this case study about Fireguard tanks built by T BAILEY INC. for a military fuel farm in Alaska.
A Shop-Built Tank Fabricator Near You
We at T BAILEY INC. are proud of our position as the leading fabricator in the Northwest and one of the best shop-built tank fabricators on the West Coast. Our dedication to the latest codes and standards is one example of our commitment to quality tank construction.
To learn more about our shop-built tanks, please contact us today.