If you own above ground storage tanks, then know the responsibility of inspecting them after they are placed in service in order to maintain their integrity. A robust inspection and maintenance program will prevent leaks, preserve your asset, and avoid costly repair and environmental damage.
The API 653 Inspection
Aboveground storage tanks that are built to American Petroleum Institute (API) 650 standard are required to have periodic API 653 inspections. For inspection and repair, API 653 is based on the principles of API 650, but it may be applied to any steel tank constructed to a tank specification. In some instances, state or local statutes may require more stringent requirements. Knowledge of such regulations is necessary to ensure compliance with scheduling and inspection requirements.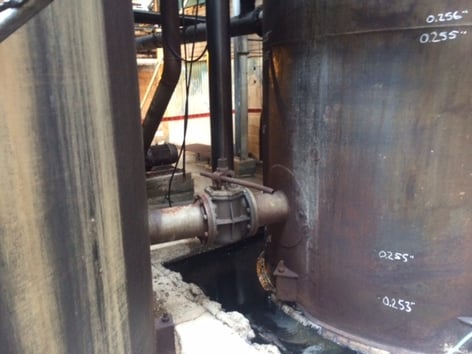 An API 653 inspection applies to the foundation, bottom, shell, structure, roof, attached appurtenances, and nozzles to the face of the first flange, first threaded joint or first welding-end connection from the tank.
How Often Must You Inspect Your Aboveground Storage Tank?
Several factors must be considered to determine inspection frequency for storage tanks. The complete list of factors is listed in API 653, 6.2.1, which includes: jurisdictional requirements, the nature of product stored, corrosion allowances and prevention systems, results of visual maintenance checks and changes in operation modes - to name a few.
As a general rule, inspection intervals are as follows:
Every month a Routine In-Service Inspection must be performed where the external condition of the tank must be monitored visually by personnel knowledgeable of the facility, the tank, and the characteristics of the product stored.

Staining: Conduct monthly visual inspection of the aboveground storage tank looking for staining indicating leaks. Check spill collection points and the secondary containment to ensure there is no product within them.
Valves: Visually inspect valves and associated piping for leaks, cracks or corrosion.
Foundation: Visually inspect the foundation for deterioration, wash-out, settling, leaks or other change in conditions since the last inspection. Tanks change over a period of time so it is important to record observations to help establish a pattern.
Type and Quantity: Keep all records of what type and quantity of product that's been stored in the tank.
Internal: Open the tank roof access every couple of years to perform visual inspection, looking for corrosion, condition of coatings, and internal components.

Every 5 years an in-service External Inspection is required. This inspection includes an Ultrasonic Thickness Inspection of the shell.
10 years after the initial in-service date an Internal Inspection must be performed, unless the tank has safeguards listed in API 653 Table 6.1, which extends this initial interval.
Subsequent Internal Inspection intervals shall be determined based on data from the last Internal Inspection and API 653 procedures to determine corrosion rates or Risk Based Inspection (RBI) assessment.
In anticipation of the Internal Inspection you should have the tank interior completely cleaned to help facilitate the inspection of the tank's internal components and structure. This means complete removal of any product, water, and debris.
Other Types of Tank Inspections Include:
The Internal Inspection requires an Authorized API 653 Inspector
The API 653 Internal Inspection must be performed by an Authorized API 653 Inspector. It is comprised of different parts and the Inspector will review records and checklists of previous inspections that have been completed since installation. They then perform internal & external visual inspection, ultrasonic thickness testing (UT), vacuum box testing of floor plate lap welds & chine weld, tank bottom examination and a settlement survey.
Let's explore each part of the inspection a little closer:
Reporting & Checklists - The API Inspector will review all prior API 653 reports which will help them identify potential problems. A collection of these reports will help build a picture of the aboveground storage tank's health throughout its existence. The owner should provide monthly inspection reports for this review as well.
Internal & External Inspection - The API Inspector has a checklist they consult while performing this inspection. The list includes, but not limited to, visual testing (VT) inspection of the tank's foundation & secondary containment, internal & external shell, welds, plates, and appurtenances. Insulated aboveground storage tanks will need to have insulation removed only to the extent necessary to determine the condition of the tank exterior. To prevent the tank from being frequently taken out of service for internal inspection a risk-based inspection program can be implemented.
Ultrasonic Thickness Testing (UT) - This testing is performed by an ASNT Level II Certified UT inspector to measure the tank material thickness as it compares to the original thickness to ensure the minimum required for the shell, floor, roof and nozzles.
Vacuum Box Testing - Also called bubble leak testing, vacuum box testing is performed to establish the condition of a tank bottom plate welds and shell to bottom weld. In some cases, if the floor has a lining on the bottom this portion of the inspection can be waived.
Magnetic Particle Testing (MT) Inspection - This inspection is used to locate open-to-surface and near surface cracks in welds that cannot be readily seen. This is typically performed at nozzle penetrations or any areas of concern discovered during UT or VT inspection.
Tank Bottom Examination – The use of equipment to scan large portions of the aboveground storage tank bottom to detect corrosion (particularly on the underside). A common method used is Magnetic Flux Leakage (MFL) examination.
Settlement Survey - This part of the inspection is to evaluate the foundation and examine if the tank is tilting or sitting on the foundation incorrectly. It evaluates all sides of the tank with laser measuring equipment to ensure it is level. Over time the tank can settle and the shell can lead to out-of-roundness which may impede the proper functioning of an internal floating roof. It may also affect the roof support structure such as columns, rafters, and girders. This type of settlement could affect tank nozzles and piping as well.
The Inspection Report
After the inspection is complete the Inspector provides a final inspection report containing collected tank data and conclusions as to whether the tank meets the API 650 specifications. This report will also include required repairs as well as recommendations for any suggested repairs prior to returning the tank into service.
Common items noted on the report as failures or potential failures include tank shell plates of reduced thickness, improper methods used to construct or maintain the tank, lack of full weld penetration or weld fusion, improper weld seam spacing, improper nozzle spacing, and other potential conditions not meeting API specifications and procedures.
Related Article: Storage Tank Maintenance Checklist
Should Your Inspection Contractor Also Be Your Repair Contractor?
T BAILEY, INC believes that the company performing the API 653 inspector and the company performing the repairs should be different in order to remove the appearance or any actual conflict of interest. While we employ API 653 Inspectors, we do so to ensure proper understanding of code required repairs. This expertise, coupled with our vast experience in fabrication, repair and tank construction ensures that when you choose T BAILEY, INC to perform your tank repairs, you get the best possible results.
Remember, there are risks and you have the ultimate responsibility as the owner of aboveground storage tanks. If you would like help you mitigating those risks, we at T BAILEY, INC are here to assist you.